---
Au-Pair
---
CdS 1 2 3 4 Vinyl A1 B3 B5
Au-Pair (extended version) Au-Pair (radio edit) Gain Now the Necessity Electric Tunnel
---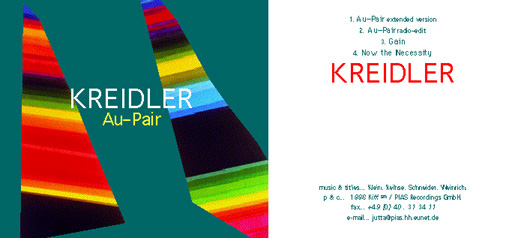 ---
Au-Pair Video written by Detlef Weinrich and Sebastian Kutscher, directed by Sebastian Kutscher.
1998 Exhibition: Pop-Video - ein Querschnitt durch 30 Jahre Clip-Kunst, Forum der Technik München.
1999 2. Platz Internationale Kurzfilmtage Oberhausen.
---
Cover-artwork after a wallpainting Detlef Weinrich did in Seoul, South-Korea. Grafic: Andreas Reihse.
---
Now the Necessity is the big brother of Necessity Now. The mother of all Necessity was recorded 1994 in Düsseldorf at Klaus Dinger's studio, where a nearly nerve-wracked Andreas Reihse started the song and was sequently joined by Thomas Klein and Stefan Schneider, while Klaus Dinger and guitarist Dirk Flader went to the drugstore for liquors. This recording session is still unreleased.
---
A live version of Gain was recorded (and broadcasted) by German musictelevison Viva2 (now MTV) in August 1997 at club GLORIA, Köln, during musicfair Popkomm. In 1999 Triple R used Gain as a trailor for his Radioshow on now defunct Evosonic.
---
1998 Realised by Klein. Reihse. Schneider. Weinrich at St.-Martin-in-the-Streets. Düsseldorf with engineer David Nash.
---