---
Curiculum Vitae
---
Early in 1994 KREIDLER was founded by Thomas Klein, Andreas Reihse, Detlef Weinrich, and Stefan Schneider who was to leave KREIDLER in 1998 in order to form To Rococo Rot.
His place on bass-guitar was taken by Alexander Paulick (of Coloma and Narrow Bridges) - with a conceptual break from 2001 to 2008.
KREIDLER'S album Riva was released 1994 on the Parisian label En Contresans. This was to be the first of 26 releases to date, with the latest EUROPEAN SONG in 2017.
KREIDLER played throughout Europe, Asia and America. In techno clubs, in rock venues, in concert halls.
At festivals like Sonar, Roskilde, Nrmal, SXSW, or Cervantino.
Commissioned by Goethe-Institut the band toured Sout-East-Asia and Mexico.
KREIDLER played in museums and art galleries: at the Van Dyck retrospective in Antwerp, for Rosemarie Trockel, Thea Djordjadze, Mike Kelley, or in The MoMA NYC and in the Centre Pompidou Paris for Andreas Gursky.
KREIDLER'S music was presented in installations at Transmediale, at Image Movement , at italic Berlin or, until Summer 2019, in Mischa Kuball's res-o-nant at Jewish Museum Berlin.
They contributed to artists books such as Deutsch - Young German Photography, Toit du Monde, Romantik. Their videos are regularly screened at film-festivals e.g. in Barcelona, Valencia, Baden-Baden, and Munich. Au-Pair, La Casa, Moth Race, and Tornado were awarded at Internationale Kurzfilmtage Oberhausen.
KREIDLER'S musical collaborations include Klaus Dinger (NEU!, la Düsseldorf), Add (N) to X, Pyrolator, Young Gods, Leo Garcia, Chicks on Speed, or Anika.
They remixed artists like Einstürzende Neubauten, Depeche Mode, Edward, Faust, or Eurythmics.
KREIDLER music has graced the catwalks of Chanel, Lacoste, 22/4 _Hommes_Femmes, or Giles Deacon.
It is featured in films, plays and in the modern-dance - e.g. in Pina Bausch's Ten Chi or in Eva Meyer-Keller's Polaroid.
They worked with authors like Jacob Wren, Nick Currie/ Momus, Theo Altenberg, or Mark von Schlegell. In 2015 they started a collaboration with Sibylle Berg for a lecture performance of Der Tag, als meine Frau einen Mann fand, continuuing in 2018 supporting p≡p coop at re:publica#18, and a show in Kassel in Spring 2019.
KREIDLER composed soundtracks for Alexandra Sell's acclaimed movie Durchfahrtsland / Remote Area / Terre de Transit, for Tommy Pallotta's / Femke Wolting's The Last Hijack and it's extended online version - that was awarded with a Digital Emmy in 2015.
KREIDLER has an ongoing collaboration with Heinz Emigholz. Emigholz accompanied their album DEN in 2012/13 with 7 films. In 2014 KREIDLER contributed the music to The Airstrip. Emigholz' movie 2+2=22 (The Alphabet) is built around KREIDLER'S ABC recording session in Tbilisi, and premiered at the Berlinale film festival in 2017. Currently KREIDLER co-op with the director on two upcoming film projects.
As of Spring 2019, KREIDLER are working on a new album scheduled for release in Autumn 2019.
In March 2019 the band celebrate the 10th anniversary of Mosaik 2014, with a remastered edition with an updated track list. Paralemente, they presented the album in a surround audio installation, Mosaik 2014 Seven Speakers, at italic Berlin.
Same Month, 29 of March, 25 years ago, KREIDLER played their first show ever.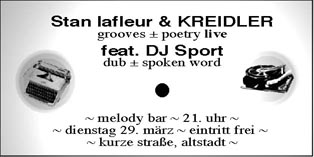 download:
CV english | CV deutsch
EUROPEAN SONG info english | EUROPEAN SONG info deutsch
---
Booking / Technical Rider
---
download technical rider Kreidler arrive by plane/train/boat/spaceship (pdf).
For international booking please contact: Daniel Jahn antistars. For German booking please contact: Marcel Gein - Howdy Partner Booking.
---
Press Photos
---
Click for Hi-res version. Free to download.
Reprint is free if credited: Photography by Melina Pafundi & Chrisa Ralli. A complimentary copy is requested.